"It has nothing to do with the headquarters of Yecheon Brewery"
Continuing the makgeolli truth workshop surrounding 15 billion won
↑ Andong Soju 0513 / Photo = Online community capture
Amid the escalating nerve war between the two sides over the 15 billion won controversy over the promotion model renewal, the noise surrounding the brand continues. It has been confirmed that Yecheon Brewery has applied for a trademark that is reminiscent of Young-tak and Lim Young-woong. It features a trademark associated with the singer's birthday.
Today (27th), according to Cypris on the patent information search site, the trademark '0513' was applied for in October of last year. May 13th is Young-tak's birthday.
Sangyeop Kim, a representative of Yecheon Brewery, has published the design of 'Andong Soju 0513' on his SNS. If you look at the trademark, you can see a cake and candles that signify a birthday. Mr. Kim explained the meaning of 0513, saying, "There is a bit of ambiguity in our marketing strategy."
However, when an article related to this was published, it was deleted and a line was drawn saying, "The trademark application has nothing to do with the Yecheon Brewery headquarters."
He added, "I applied for a trademark when the relationship between Yecheon Brewery and Young Tak was smooth," he said.
Also, in November of last year, we applied for '0616 Our Side (Ae)'. June 16th is Lim Young-woong's birthday. In response, Mr. Kim explained, "I applied for an application because I thought it might be possible to use it later." "I am not even thinking of using it right now."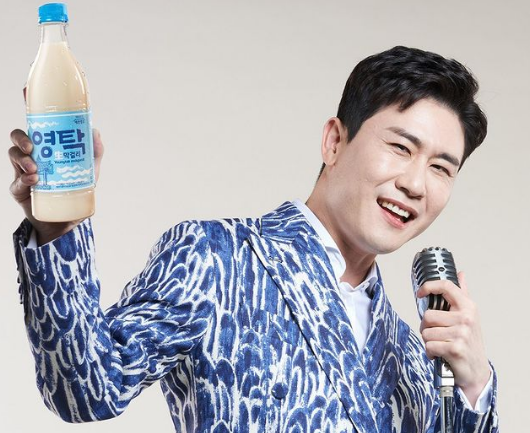 ↑ Singer Young-tak / Photo = Captured from Yecheon Brewery's Instagram account
Meanwhile, Yecheon Brewery applied for a makgeolli product trademark called 'Young-tak' on the fifth day, when Young-tak sang 'a cup of makgeolli' in 'Mr. Trot' and became a hot topic. It is the first trademark reminiscent of Mr. Trot.
At that time, it was pointed out that Yecheon Brewery was trying to take advantage of its fame centering on Young Tak's fandom. In response, the manufacturer said, "Since 2019, we have created three names, Jintak, Youngtak, and Hoeryongpo, and after careful consideration, we have applied for a trademark as 'Youngtak' on January 28, 2020."
The trademark was rejected under Article 34 (1) 6 of the Trademark Act of the Korean Intellectual Property Office without the consent of Young Tak. In addition, the conflict seemed to be resolved by recruiting Young-tak as a model.
However, the real conflict started when the model extension contract broke down last month. Yecheon Brewery's side claimed, "Negotiations broke down because Young-tak demanded 15 billion won over three years, including brand-related cash and company shares." Based on the standard financial statements for 2020, it said that it had requested an amount and adjustment that fit the reality, and finally presented 700 million won. In addition, although the model negotiations broke down, the position is that there is no problem with the use of the 'Young Tak Makgeolli' brand.
But
After the contract period expired, Young-tak's side argued that the deposit was discussed through discussions over the use of the name 'Young-tak', but there was no request for 15 billion won.
As the battle for the 'Young-tak Makgeolli' trademark between the two sides continues, there are concerns that the launch of a brand using a celebrity's birthday may emerge as a new controversial issue.
[김지영 디지털뉴스 기자 [email protected]]
.