In Tunisia, thousands of people protested because of a sharp rise in corona infections in the country, demanding the resignation of the government, the dissolution of parliament and early elections. In the capital Tunis, hundreds also advanced to the parliament building.
Ennahda offices stormed
Demonstrators also stormed the offices of the Islamic conservative Ennahda party, the dominant force in parliament. Videos circulating on the internet showed smoke coming out of the Ennahda building. The attackers damaged computers and other devices in the building and threw documents on the streets.
In some cases, there were scuffles between the mostly young demonstrators and security forces. The police also blocked all streets leading to the capital's main artery, Avenue Bourguiba. She used tear gas to drive away demonstrators who threw projectiles at officials and arrested several people.
A new group called the "July 25th Movement" called for the protests on the 64th anniversary of Tunisia's independence. There were also clashes in several other cities, notably Nabeul, Sousse, Kairouan, Sfax and Tozeur. So far there have been no reports of injuries.
Seven percent of the population vaccinated
Tunisia is currently experiencing a sharp increase in the number of corona cases. So far, 555,000 corona infections and around 18,000 deaths have been reported, with a population of around twelve million people. France, Italy, Spain and countries in the Arab world supplied vaccines, ventilators and other medical supplies to support the small Mediterranean country.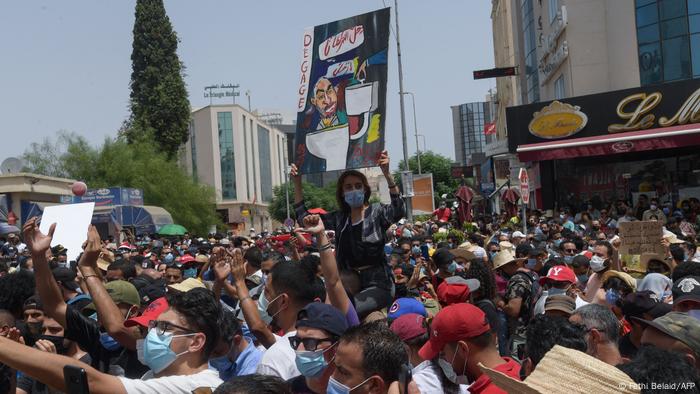 The demonstrators in the capital Tunis also expressed their opinion with quite "vivid" posters
The vaccinations are still making slow progress. According to the statistics website "Our World in Data", only about seven percent of the population have been fully vaccinated against the coronavirus. The slogan "The people want the overthrow of the regime", which became popular during the protests at the beginning of the Arab uprisings ten years ago, was heard again this Sunday in Tunis.
Tunisia has been the only country in the region to transition to democracy since the uprisings of 2011, and long-term ruler Zine El Abidine Ben Ali had to flee abroad. However, the Mediterranean country is suffering from a severe economic crisis that is particularly affecting the younger generation. The corona pandemic has exacerbated the situation. Many Tunisians distrust the ruling elite. There have been protests in the country since January. Among other things, they are directed against high unemployment, poverty and corruption.
sti / qu (ap, dpa, rtr)
.