A comedian couple, Hyeon-sook Pang and Yang-rak Choi, tried a 'low carb' diet for health and found true happiness.
In the JTBC 'Can't Be No. 1' broadcast on the 25th, Hyun-sook Pang and Yang-rak Choi tried a low-carb diet for health.
On this day, Hyun-sook Pang and Yang-rak Choi started a diet to find health. Yang-Rak Choi, who is breathing heavily because he gained weight, and Hyun-Sook Pang, who was diagnosed with lean obesity in the last health check-up result, started a low-carb diet. Hyeon-suk Pang practiced perfect self-help, saying, "An acquaintance lost weight on a low-carb diet. My husband is a person who eats three meals a day, so (low-carb diet) seems to be the perfect fit."
In addition, Hyeon-sook Pang and Yang-rak Choi showed polar opposites after buying food ingredients at the mart, causing laughter. Unlike Pang Hyeon-sook, who makes a diet meal right away, Choi Yang-rak hid snacks in his own secret space. In particular, Peng Hyeon-suk, known for his large hands, made everything from pork belly to soup to side dishes with large-capacity butter. Kwon Jae-gwan, who was watching the VCR, said, "It's the first time I've seen butter put in like laundry soap," and Peng Hyun-sook said, "It's effective if you put it in too much."
Above all, Hyeon-sook Pang made the studio laugh by feeding only Yang-rak Choi a low-carb diet. However, Choi Yang-rak also recommended food to Peng Hyeon-sook, and Pang Hyeon-suk, who tasted the food, burst into laughter and made the taste predictable. Hyeon-suk Pang added oil and butter to the coffee, burning the will to low-carb and even dessert. However, the two people, who were not feeling well due to the sudden diet, realized true happiness by happily ending the diet with bibimbap filled with red pepper paste and radish kimchi.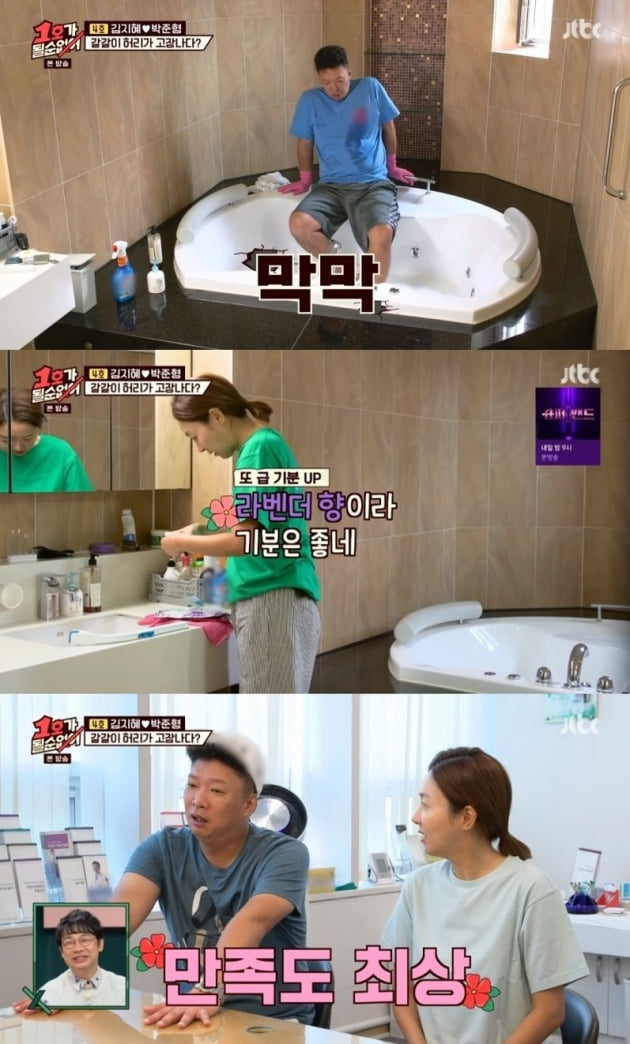 Kim Ji-hye and Park Jun-hyung conducted a house cleaning. Kim Ji-hye, who even wore rubber gloves, swept and wiped every nook and cranny of the bathroom, ordered Park Jun-hyung to clean the bathtub, and Park Jun-hyung started cleaning the bathtub alone. When Park Jun-hyung asked, "Why do you make me do it?", Kim Ji-hye said, "This is your house and home. It's your job." The moment Park Jun-hyung fell into a soap bubble, an accident occurred.
However, this accident was a surprise show by Park Jun-hyung to avoid a general cleaning. Kim Ji-hye, who noticed this situation slightly, took Park Joon-hyung to the hospital and was diagnosed with cervical kyphosis and degenerative disc. The doctor said, "Driving and playing games are the worst," but to Kim Ji-hye, "You shouldn't stress. Men are like that. You shouldn't say too much."
In addition, the doctor diagnosed Kim Ji-hye with "a lot of stress. It's a fantastic compatibility," but cautioned that she should maintain an upright posture. Afterwards, the two finished the day meaningfully by learning the taping technique for correct posture and health.
Reporter Woobin Tenasia [email protected]
© TenAsia, unauthorized reproduction and redistribution prohibited
.